Joan Rivers. An Icon Worth Remembering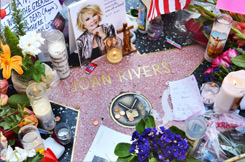 It has been solemn around T'NT Miami since Friday when we heard the sad news of Joan Rivers passing. She surprised us all by dying at 81 years after going in for an outpatient laryngeal "procedure" and ending up at Mount Sinai Medical Center with cardiac arrest. That's not "heart stopping" comedy, but really descriptive since she was focused on career and abrasive comedy that addressed life's inconsistencies, her own and those around her. Life is not perfect, and there she was, reminding us.
Was there a reason for her death? How would Joan answer that question! Daughter Melissa Rivers and spokesperson Judy Katz reported, "She's dead." Period! Joan would have gotten a kick out of this, having a spokesperson to talk for the dead. Dead or not, her sixty years of comedy in nightclubs and television will no doubt emerge in one of those "Best of _____" DVDs on late evening broadcasts. Even the New York's State Health Department had to investigate her death? Joan would say, "Do they think they won't find me in a coffin?"
Joan Rivers was a legend. We take female standup comedy for granted, but there was a time when females didn't dare perform comedy especially brash, even cruel but she was never afraid to share her political opinions or views on public figures. "I mock everybody, regardless of race, creed or color," Rivers shared with the Toronto Star in July. Joan Rivers came about in the 1950s and 1960s giving the guys a run for their money. You can hear her say, "Move over, Rickles" and "Make room, Bruce!"
Even at 81 Joan was "flying high" with a career bringing her across the country; performing live and recording future shows, using politically incorrect comedy that deprecated celebrities, friends, critics and self alike. Perhaps it was that Jewish upbringing in New York or her immigrant mentality that was "in-your-face" by the standards of general America. And then there was fashion. Rivers, in her later years, became a critic of all that covers us including clothing, accessories and our pride.
She was a "blond" who liked to dress in black and pearls accompanied by inappropriate comments concerning the attire of today's rich and famous. Her career certainly had its successes and failures, but Joan was a pioneer, persistent, and able to persevere in hard times and rebound time and time again.
Born Joan Alexandra Molinsky, Brooklyn, June 8, 1933, to Russian immigrants, died as Joan Rivers, New York, this past week. She will be greatly missed but her legends lives on forever. T'NT provides timely, top quality and reliable transcription, closed captioning, translation, and subtitling services. Contact
T'NT TRANSCRIPTIONS 'N TRANSLATIONS
today at
(305) 756-3380
.